Rabbits
Holztiger and Ostheimer have got some rabbits and hares figures in their product range. The animals are made of wood. Due to their shapes and sizes they are suitable for children's hands.
€ 9,25

Compare

Gratis verzending vanaf € 70,- (anders vanaf € 4,99)
Hoge Kiyoh klantbeoordeling
30 dagen bedenktijd Niet goed? Geld terug!

€ 5,99

Compare

€ 6,75

Compare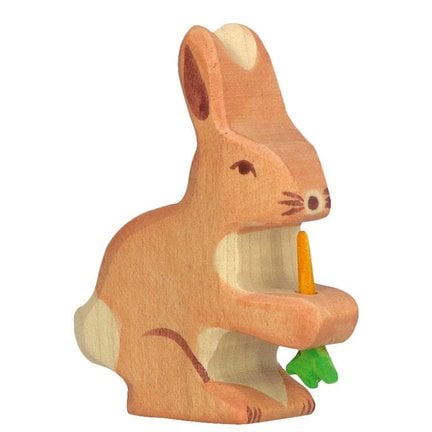 What does a rabbit eat? 
Rabbits get their nutrients from hay and green fodder. Did you know they also eat their own feces and get nutrients that way? If you have a rabbit yourself, you can give them the following vegetables: plantain, endive, chicory, dandelions or broccoli. In addition; all types of fruit are suitable for rabbits and they only need a small amount. Finally, grass is very important for rabbits. Grass contains a lot of moisture, it als contains the most important nutrients a rabbit needs.