Scooters
Scooters are good for practicing your balance. For children, who have used scooters often, it is easier to make the switch to a bicycle. Training wheels are often not a necessity anymore. Besides, practicing with a scooter is very good for your health
Grootste collectie houten dieren
Fysieke winkel in Harderwijk
30 dagen bedenktijd Niet goed? Geld terug!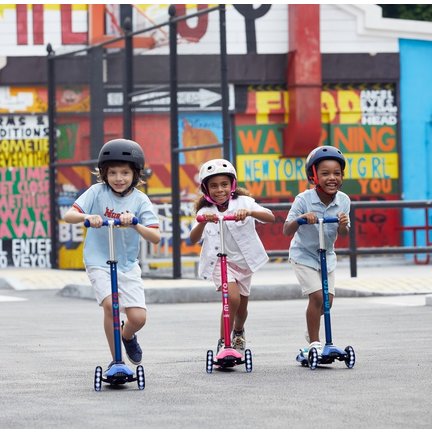 How to choose the right scooter? 
Mind the used bearings. Scooters in our assortment have the best bearings. For example, the Micro Sprite Autumn Red has an ABEC value of 9. ABEC 9 bearings guarantee the greatest precision and durability.
The deck, which is where the feet are. The width of the deck determines the stability of the scooter. If a deck is wider, it is easier to keep your balance. This is very important for a beginner. The material of which the deck is made, can influence the resilience of a scooter. A deck made of fibreglass will ride more comfortable on soft surfaces, compared to a deck made of metal. 
The wheels are important for the stability of a scooter. A scooter with 2 wheels on the steering side is very stable and suitable for beginners, even for young children. The scooter is developed to be able to keep standing, while it is not used. The width of a wheel is also very important, if you ride the scooter on a soft surface.