Giraffes
Holztiger and Ostheimer have got some giraffes figures in their product range. The figures are made of wood. Due to their shapes and sizes they are suitable for children's hands.
€ 16,75

Compare

€ 16,25

Compare

€ 12,50

Compare

€ 18,95

Compare

€ 13,25

Compare

Grootste collectie houten dieren
Fysieke winkel in Harderwijk
30 dagen bedenktijd Niet goed? Geld terug!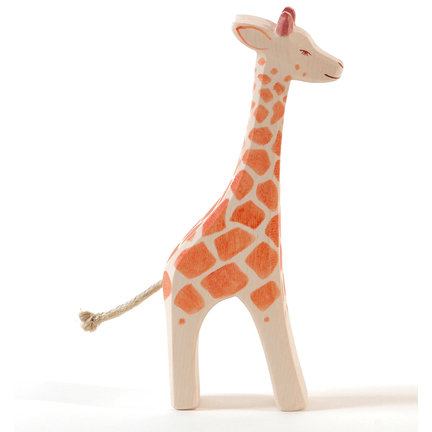 Facts about Giraffes:
A fully grown giraffe has got a body length of around 3.5 to 5 meters. The tail length is between 75 and 110 cm. Male giraffes are generally larger than females giraffes.
Both males and females have clearly visible horn-like structures on the top of their heads. This is formed by calcified cartilage. It also contains barrels, therefore the horns are also used for temperature regulation. In addition, the horns males use their horns in fights.
The giraffe is a ruminant and mainly eats leaves, shoots, fruits from trees and shrubs. Calcium and proteins are especially important for growth support. It is a beautiful sight when the giraffe eats leaves with its tongue, did you know the tongue can be up to half a meter long?