GIFTCARD
✩ persoonlijk kaartje voor de ontvanger ✩ leuk ingepakt ✩ lange tijd geldig ✩ te gebruiken in de winkel en online ✩ ook geldig voor aanbiedingen ✩ Ook in combinatie met SALE artikelen.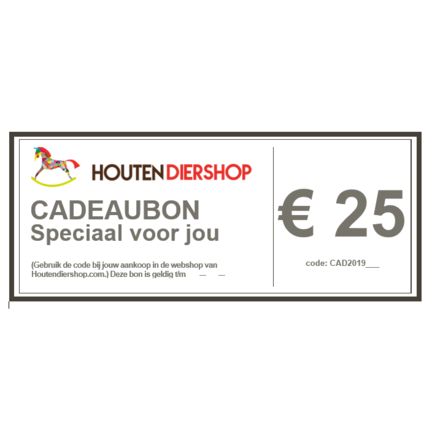 Een cadeaubon van HoutenDierShop is altijd gemakkelijk!
Weet je niet wat je iemand moet geven bij een verjaardag? Met een cadeaubon van HoutenDierShop is die vraag beantwoord! De cadeaubon is te gebruiken voor het hele assortiment wat wij hebben. Het maakt niet uit of een artikel in de sale staat of een speciale aanbieding. De cadeaubon is overal te gebruiken. De kadokaart is ook leuk om te geven als cadeautje bij een kraamfeestje of babyshower.